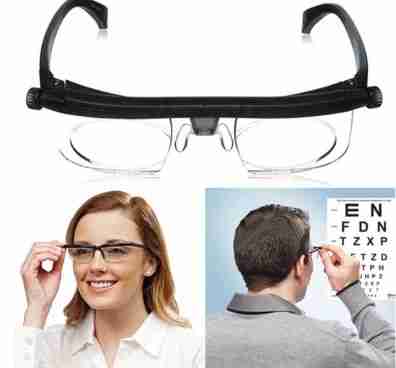 These remarkable, yet highly affordable, reading glasses are fully ADJUSTABLE. Simply use the little dials on the sides of the lenses to adjust the magnification.
It takes just seconds to dial in the perfect custom magnification for super clear up-close reading and handy work. Then dial again to see distant objects with complete clarity.
Keep in mind we are getting perfect clear, sharp, detailed, color correct vision with a very affordable single pair of Dial Rescue glasses.
They are lightweight made of ultra durable materials that will withstand lots of daily use. The Polycarbonate lenses are tough and scratch resistant. I wouldn't hesitate to keep these in the glove compartment of my car to pull out to read a medicine bottle, go over a receipt with fine print, then clearly see messages on my phone with no trouble at all.
Then I use the little dials on the sides of the lenses to get custom magnification for distant objects. Now I'm seeing buildings in the distance, birds flying, and my son waiving to me from the school yard several blocks away.